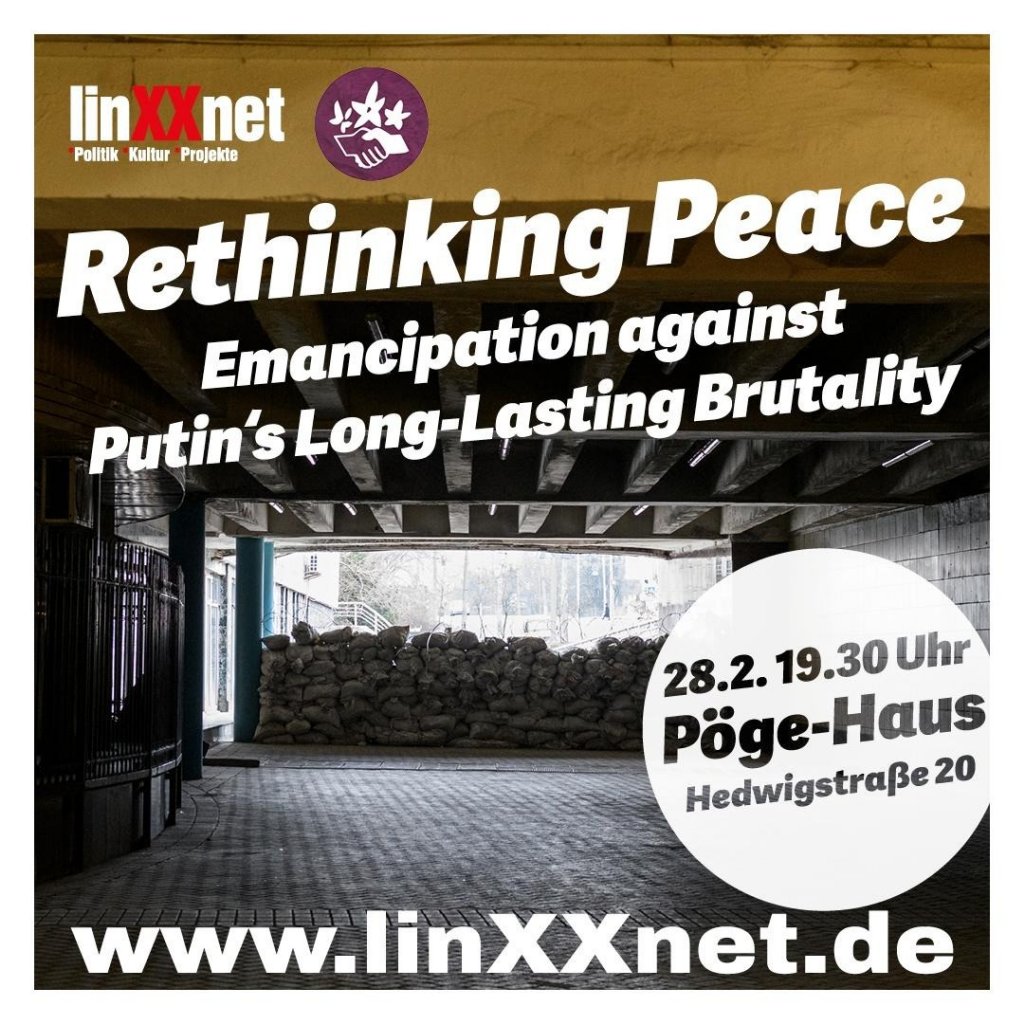 Details
"Today we need to ask ourselves: have we been too quiet? Was our communication there not enough? Communication on the repression that we ourselves experienced practically in our work? Didn't we do enough to represent, also in our own party, the critical positions towards Putin's authoritarian regime and the voices of LGBTIQ+ and freedom-oriented left-wing people as well as artists and journalists? This question was raised in front of the background of the Russian aggression against Ukraine in 2014 already as well as the military campaign of Russia side by side with dictator Assad against Syrian cities and regions or the repression against uprisings in former Soviet republics with Kazakhstan being the only most recent example." *
The full-scale invasion Russia launched against Ukraine at February 24th 2022 surprised people all around the world. Yet, people in Eastern Europe – and not only there – have been voicing warnings for a long time, trying to raise attention for the brutality of Putin's regime in Russia. Because for decades that brutality striked both on the domestic as well as the international level. While doing so, the regime's efforts to hide this brutality decreased with every new strike.
What follows for Left-oriented people especially in Europe in questions of war and peace? What kind of direct action can be taken on the ground? And actually, could it be that "being Left" finds itself in a completely different setting in Eastern Europe than in Germany/ Western Europe? And what follows out of that for a just and peaceful Europe – on the domestic and the international level?
These questions will be discussed together with
– – Sergiy Movchan, member of the anti-authoritarian volunteer network Solidarity Collectives.
– Tanya Kulbakina, anarchist and queer activist from Russia (currently living in Leipzig)
– Sasha Kantser, historian and activist from Ukraine, Feminist Workshop Lviv
The event will be hosted by
– Paweł Matusz, Migrants Council of the City of Leipzig, activist, author, networker
Location: Pöge-Haus, Hedwigstraße 20, 04315 Leipzig
Time: February 28th 2023, 7:30pm
* This quote is from the linXXnet paper "Ukraine and Russia: Comments on Necessary Readjustments in the Foreign Policy of LEFT party [DIE LINKE]" [https://www.linxxnet.de/2022/11/30/ukraine-and-russia-comments-on-the-necessary-readjustments-in-the-forein-policy-of-the-left-die-linke/], was published in November 2022. Shortly after, members of linXXnet collective went with a delegation to Kyiv end of January 2023, among them a doctor from Kyiv and the local Leipzig initative "Space Leipzig."
Link zur Veranstaltung: https://www.linxxnet.de/event/rethinking-peace-emancipation-against-putins-long-lasting-brutality/
Veranstaltende Gruppe: linXXnet & Naturfreundejugend Leipzig
Sprache des Events: Englisch
Eintritt: Kostenfrei
Kategorien: